The Obama Administration is barreling toward a milestone, one it probably would like kept in the shadows. Sometime in the next few weeks, the number of people without documentation deported since President Obama took office in 2009 will exceed 2 million. It's an astounding number–far more than the Bush Administration deported–and it is puzzling considering the amount of support Obama received in 2012 from voters of Mexican, Central American, and South American descent, as well as other immigrant groups.
Of far greater magnitude, it's also a devastating number. Many of the people deported are parents of children born in the United States. Not only do deportations tear apart families, those not caught in the net of Immigration and Customs Enforcement (ICE), are reduced to living in fear of summoning help from the law when they may need it.
In June 2012, as Obama was running in what at the time seemed would be a tight race for re-election, he issued a memo calling for "deferred action" for younger immigrants without documentation provided they met certain criteria. After winning a second term, it was assumed that Obama would go further than the Deferred Action for Childhood Arrivals (DACA) program and press for an overhaul of the nation's immigration laws. However, he did not push hard, and the two competing bills from the Senate and the House of Representatives were woefully inadequate, resembling indentures more than legislation that examines the root causes of immigration Rather than providing compassionate and just measures toward citizenship, in the case of the House bill, the focus is more on punishment and enforcement of existing law.
On Saturday October 5th, Portland joined with over 150 other U.S. cities to demand that Congress craft immigration legislation that includes a pathway to citizenship for the estimated 11 million immigrants without documentation. About 300 people attended the National Day of Immigrant Dignity and Respect rally in Director Park, joining a national turnout of more than 50,000.
The tone of the day was one of unity. Unity among various immigrant ethnicities. Unity between labor, faith, and immigrant rights groups. Unity of community.
Mayra Martinez, a student without documentation at Portland State University and an Oregon Dream Activist (immigrant youth pushing for comprehensive immigration reform) , spoke of how a pathway to citizenship would mean her family "wouldn't continue to live in fear of deportation or losing my parents or having my education doors shut on me." In September, Martinez had joined the Walk for Citizenship, a 3-day, 42-mile jaunt between Madras and Salem organized by Oregon immigrant rights group Causa. The group demanded that Republican Representative Greg Walden–as well as the rest of the federal government–get to work on immigration reform that allowed for a path to citizenship. "Any proposal that puts millions of Latinos, Asians, and immigrants into a permanent underclass or excludes them from a pathway to citizenship is not good enough," Martinez told the unity rally.
Martinez also noted the electoral sway immigrants possess now and will do so more powerfully in the future. "House Republicans like Greg Walden have a choice before them. Deliver a real solution on immigration and start to rebuild their political brand among young people and the fastest growing group of people in this country or step further and further away from the Latino and immigrant community with extreme proposals that fall short of real solutions."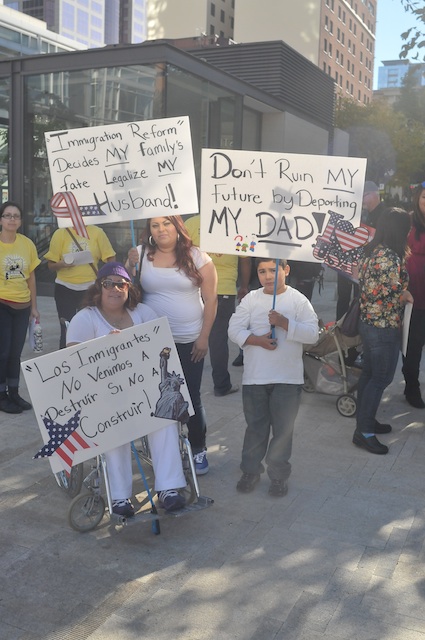 As Obama clearly realized last summer, and as it seems the Republicans are realizing as well–although their recognition finds expression in voter suppression laws–the votes of immigrants turned citizens have become large enough to sway elections. A great electoral prize awaits the party that is credited with passing the legislation that offers citizenship to those immigrants who live and work in the US, but lack documentation. "Immigrant advocates are determined to win citizenship not only for DREAMers, but for all 11 million aspiring citizens living in this country," Martinez said. "A comprehensive solution to our broken immigration system is the only way."
Jeanie Lopez, who was born in Portland, talked about the havoc current immigration law has brought upon herself, her husband Evaristo, who came to the US as a teen, nd their US born daughter. When Jeanie and Evaristo married, they "tried to live a normal life," but soon started feeling "like criminals always worried that the day would come" when Evaristo would be deported.
"Sick of living in hiding" the family moved to Mexico so they could do things "the right way." They then filed to return to the US as a family, citing "the hardship that my family would suffer if my husband was not able to return." The request was denied and they found themselves living in extreme hardship in Mexico, mother and child able to return, but not willing to abandon Evaristo. Their daughter soon began suffering from depression, and it was decided that Jeanie and daughter should return to the US where she has since struggled to rebuild her life. Not surprisingly, Lopez described it as a time that changed her forever, but it has also informed her fight.
"All I can do is try to move forward and fight so that no one ever has to go through what I went through," she said. "So now I will keep fighting, and I will keep telling my story. I want everyone who says, 'Get in the back of the line,' to hear my story. Don't ask from us what you would never do, what you yourself would never put your family through."
Immigration reform is not only about immigrants. Heather Conroy, Executive Director of Service Employees International Union Local 503 emphasized the importance of solidarity. "We're in it together," she said. "It's immoral to sit by on the sidelines and watch while families are torn apart by senseless immigration policies."
Tom Chamberlain, President of the Oregon AFL-CIO echoed Conroy's words. "We do not stand together as allies," Chamberlain said. "We do not stand together as friends. We stand together as one. As friends. Your fight is our fight. Your struggle is our struggle. We are workers. We are mothers. We are fathers. We must rise up and say, 'Enough!'"
On October 3rd and 4th, Protect Oregon Drivers Licenses (PODL) delivered 71,000 signatures on a referendum petition designed to repeal the Oregon law going into effect in January that allows people without proper documentation of legal residence to obtain a driver's card that would carry with it most of the privileges of a regular driver's license. To get the referendum on the ballot, only 58,142 signatures needed to be submitted. PODL is affiliated with Oregonians for Immigration Reform, an organization listed as a "Native Extremist" group by the Southern Poverty Law Center
And just across the Willamette River at the Multnomah County Building, protesters have been demanding the release of Emmanuel (Manny) Perez Jaimes. Jaimes is on an ICE hold and could soon be transferred to an immigration detention center. However, in April, in a deal brokered between Multnomah County's Sheriff and County County Board, ICE hold parameters were limited to Felonies or Class A Misdemeanors. Like over 80% of people without documentation turned over to ICE, Manny was arrested for a crime outside those bounds, which means Sheriff Daniel Staton is going back on his word.
One key element missing from the rally was a discussion of so-called free trade agreements such as those involving Mexico and Canada (NAFTA) and Central America (CAFTA). These arrangements–which Senator Ron Wyden seemingly cannot resist–allow for the unfettered flow of capital, but make no mention of free flow of labor, result in the economic, social, and environmental consequences that destroy people's lives and compel them to migrate to the US in search of better wages and living conditions. They are the primary reason people uproot themselves and their families, often at great risk to their lives.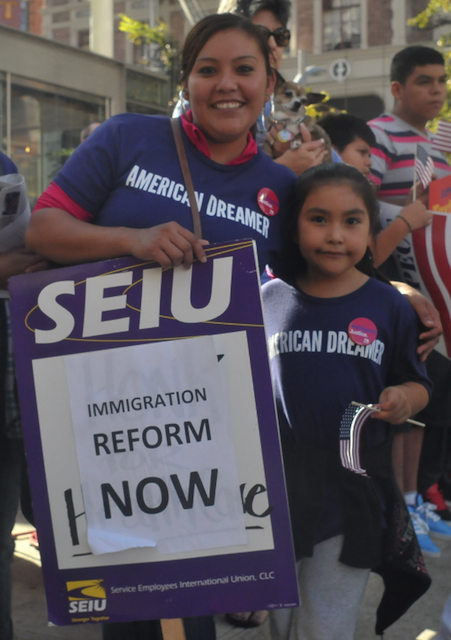 Opponents of immigration reform–real immigration reform that allows for citizenship–appear to want it both ways:. They are more than willing to have a low wage, unprotected workforce that provides them with cheap food and services, performing some of our society's most menial but essential tasks, but they don't want these people to share in the benefits enjoyed by those who are "official" members of the society.
But the immigrants rights movement is clearly well-organized and not likely to retreat. "We will not be treated like we are simply workers with no rights," said Kayse Jama, Executive Director of the Center for Intercultural Organizing. "You can delay justice, but we will win. We are from all over the world. We are from Africa. We are from Latin America. We are from Asia. And we are united."
For more information on getting involved in fighting for immigrant rights, see www.causaoregon.org.
A rally will be held Tuesday October 8th at 10 AM in front of the Multnomah County Building (501 SE Hawthorne Blvd.) to demand Emmanuel Perez Jaimes' release. For more information see: http://action.dreamactivist.org/oregon/emmanuel/
– See more at: http://www.portlandoccupier.org/2013/10/08/immigrants-enduring-brutal-road-to-citizenship-determined-to-prevail/#sthash.fuPQ5efG.dpuf