[Source – Narco News]
The country's largest media corporation admits to creating the "Mexico Initiative," a PR extravaganza that critics say is meant to strip the rebel spirit of 1810 and 1910 from this week's celebrations
By Fernando León and Erin Rosa
Special to The Narco News Bulletin
September 12, 2010
As Mexico commemorates its 200th anniversary this month, Televisa, the country's largest television network, has confirmed that it is the force behind a massive public relations campaign that critics—and many citizens—view as an effort to quell public dissatisfaction and rebellion relating to the bicentennial. The corporation partnered with forty of Mexico's most powerful media outlets this June to sponsor the Mexico Initiative, which produced a series of advertisements that have inundated the country on billboards and televisions during the lead up to the anniversary.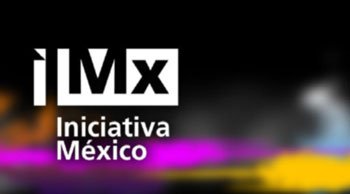 In an exclusive interview published by Narco News, a representative of the Mexico Initiative admitted that the media consortium was founded and is staffed by Televisa, the country's largest TV network.
The "bicentennial" is really two anniversaries in one, marking 200 years from Mexico's 1810 war for independence from Spain, and 100 years from the 1910 revolution of Zapata and Villa. Both events being commemorated involved the Mexican people rising up against their rulers. Enter the Mexico Initiative: a consortium that in the name of honoring both rebellions seeks to strip that inconvenient detail from the national patriotic celebrations that begin September 15 and 16.
"It was an idea from Televisa," says Tania Esparza Oteo, the director of the Mexico Initiative, in an exclusive interview. "Later we invited all the other electronic and print media outlets to make up a Mexico Initiative advisory board." Until now, the exact details of who was behind the bicentennial ad campaign could not be confirmed.
The initiative's Web site lists dozens of Mexican newspapers and television stations as collaborators, but fails to list officials like Esparza Oteo or reveal who is funding the campaign. There is no phone number or address to contact representatives with the initiative. In late August, the front page began to feature a generic E-mail address where readers could send suggestions. It was only after finding that the Web site's domain name was registered to Televisa that reporters contacted the station and eventually reached Esparza Oteo.
Two hundred years after the country declared independence from Spain, and 100 since the Mexican Revolution, when citizens came together to topple dictator Porfirio Diaz, there is measurable distrust among the Mexican public towards the government and other institutions like the media—a growing resentment that has those in power spooked on this historic year. In response, the initiative has flooded the airwaves with ads that feature fashionably-dressed celebrities who tell viewers to bury their "complexes" and break out of old "habits" in order to "evolve" this bicentennial year. The spots are broadcast almost every 15 minutes on virtually every TV (including cable) and radio station.
Esparza Oteo defines the Mexico Initiative as an "idea showing Mexicans role models who are transforming the country," so "we can learn from them and use their example and act on the problems we face." In other words, by controlling and co-opting the message of the bicentennial, outlets like Televisa are hoping to avoid a repeat of 1810 and 1910.

Media moguls who gathered last June to announce the Mexico Initiative.
Photo: CNN México
It's naïve to suggest that the problems in Mexico can be solved by "role models" when considering the reality in the country. In 2006, 1.5 million votes were stolen during the presidential election to favor current Mexican ruler Felipe Calderón, while mainstream news outlets like Televisa went along with the fraud. There is growing insecurity and violence due to the government's war against drug traffickers, which has already left 28,000 dead since Calderón took office. Nearly 20 percent of Mexicans can't afford food on a daily basis, and the economy is only expected to get worse.
Televisa is owned by Grupo Televisa, the second largest media corporation in Latin America. The parent company owns a wide array of businesses, including publishing firms, radio networks, three professional soccer teams, record labels, and gambling venues. The Mexico Initiative is comprised of a number of the country's elites, like Televisa president Emilio Azcárraga Jean; former Mexican ambassador to the United States Federico Reyes Heroles; José Narro Robles, the rector of the National Autonomous University of Mexico; and Juan Francisco Ealy Ortiz, owner of El Universal, the largest daily in the country. The backers of the initiative represent 90 percent of the media industry in Mexico, market analysts say.
The 'Role Models' Take Over TV
When asked about the cost and funding for the ad campaign, Esparza Oteo states that there isn't any. "We have an advisory board made up of forty of the most important media outlets in the country, and each outlet is contributing resources, giving time and space in their studios. There really hasn't been an expense," she says. "We've opened our studios, we're using our own production teams, we're putting our news anchors and most important opinion commentators forward to be able to make this project happen."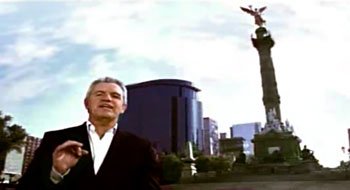 National soccer coach Javier Aguirre's appearance in the first major Mexico Initiative bicentennial ad generated plenty of controversy given his past negative statements about the country that he wouldn't have his family reside here. After Mexico lost the world cup, Aguirre left the country again.
In a notable display of cooperation, Televisa partnered with its main rival TV Azteca to air initiative advertisements on TV. During the World Cup, one spot featured the coach of the Mexican soccer team, Javier Aguirre, donning a suit and standing in front of the Angel of Independence monument in Mexico city. "It's time to assume that change requires effort from each one of us," says Aguirre, after mentioning the bicentennial. "Mexico must bury its complexes and give birth to a Mexico of self-reliant men and women." Continuing, Aguirre tells viewers to "Forget the Mexico that always expects the worst and build a Mexico in which everyone works for the better. Leave behind the Mexico that looks to blame, and give way to a Mexico in which we all assume responsibility."
Earlier in the year, Aguirre gained media notoriety in Mexico when he told a Spanish TV network that Mexico was "fucked." This was before he was filmed in the Mexico Initiative ad saying, "I love Mexico." When his team lost in the World Cup finals, he quickly quit as coach and left the country. His initiative advertisements stopped airing after that.
The second celebrity to be in an initiative spot was actress Salma Hayek—another person who is from Mexico but who no longer lives in the country. "This year we celebrate our bicentennial, which is a source of inspiration to become a better nation," Hayek says, while posing in a movie theater. "A better nation is made of better individuals. It's time to break out of our habits and evolve." A common theme in Mexico Initiative ads is scolding viewers for their lack of "responsibility" while praising the individual, as if to give the message that nothing can be accomplished when people work together—in fact, such behavior might even be irresponsible.
"You can't deny that these two Mexicans are Mexicans with a lot of recognition," Esparza Oteo says, discussing Aguirre and Hayek. "They're successful Mexicans who have achieved great things in their careers and who represent the possibility of change."
Along with the advertisements, the Mexico Initiative is sponsoring a TV show resembling "American Idol" that offers publicity to Mexicans who have proposals to "make the country a better place." The program airs on Televisa and TV Azteca each Sunday, and features 25 contestants who were picked from around 47,000 proposals. Viewers are invited to vote on which ones they think are best. However, the show and the nomination of its 25 contestants was coordinated by a US nonprofit organization called Ashoka, which is based in the Washington DC area, Esparza Oteo confirms.
After talking with Esparza Oteo, Televisa contacted the authors of this report three separate times to discuss "the possibility of sending us the article of the interview before publication." The behavior begs the question: does Mexico's largest news organization have a general policy of allowing other powerful institutions or people to look at and possibly edit its reports before they're published?
Feeding a Public Backlash
The media's efforts to sow complacency in Mexico have only reaped contempt. As the bicentennial approaches, citizens look at the initiative as more of an insult than a benevolent public service announcement. The elites' celebrity idols are not admired by most citizens. Javier Aguirre and Salma Hayek have failed in their missions to induce a bicentennial honeymoon with the people.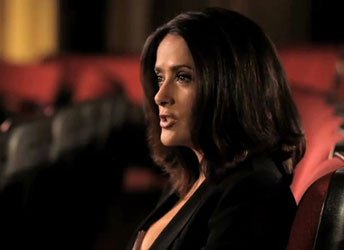 A recent Mexico Initiative bicentennial ad featured the actress Salma Hayek, who, like Aguirre, doesn't live in Mexico, generating further backlash in public opinion against the corporate version of the bicentennial.
"It seems wrong to use them," says Michelle, a fashion design student, when asked about the initiative on a street in downtown Mexico City. "They don't represent anything. Salma Hayek doesn't even appreciate this country." A friend next to her chimes in, "It's only because they're famous. But if you ask them about the country, they don't even know it." Michelle responds, "It's only a marketing strategy."
"It's terrible," says a shoe shiner in the Coyoacan area of Mexico City, when taking about the ad with Aguirre. "He's always been two-faced. While abroad he says stupid things, and then he wants to feel really Mexican. He's awful."
Other Mexicans think all of the energy used by Televisa and its cohorts could have been used better. "I think if they had wished to change the country they could have started with other things, like the people who have more money paying taxes " says Alma Edna Beltrán, a history and geography teacher, when talking about the Mexico Initiative. "We need new political figures, not the same ones. These resources should be allocated to support people with fewer resources."
"I want them to build more schools and help the kids who are in the street. It's not about making commercials, propaganda," says María Teresa, a street vender in Coyoacan. "We know that the broadcasters are with the government. They can do everything with money. Just as they are also paid to say things."
As for Mexico's 200th anniversary, many say there isn't much to celebrate. "I think that we're going from bad to worse. Nothing has changed," says one unemployed laborer sitting in Alameda Park, close to the Zócalo in Mexico City. "There are so many poor colonias and people like me without jobs. What are we going to do? I don't think it's fair."
The media's goal with the Mexico Initiative was likely doomed from the start, as the news outlets who are sponsoring the campaign are so far removed from everyday life in Mexico. Not even big name stars or a ubiquitous deluge of advertisements could sway public opinion their way. What the initiative did succeed in is offering a clear picture of the ever-growing disconnect between Mexico's small group of elites and the majority of people who live and work in the country each day. On the eve of Mexico's 200th anniversary—much like the times preceding the 1810 War of Independence and the 1910 revolution—the powers that be have completely lost touch with the demands and the needs of the people.