[Source – Survival International]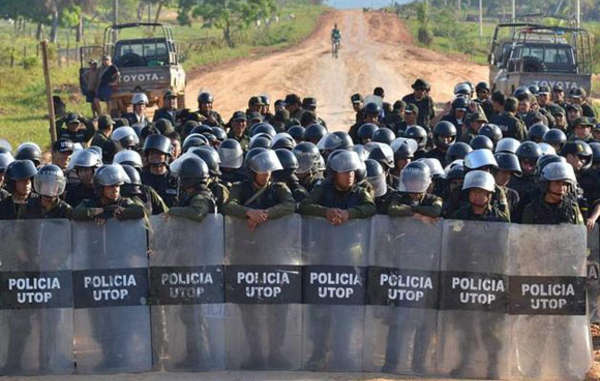 Police blockade road in Bolivia preventing Indian protesters' route to La Paz
© GD/Survival
Bolivia's President Evo Morales has suspended plans to build a major highway through indigenous peoples' land in the Amazon rainforest.
His decision follows a 40-day protest march, which was brought to an abrupt halt on Sunday, when police used tear gas and truncheons to dispel 1,000 protesters.
Morales faced pressure from within his government to use less force. His Defense Minister Cecilia Chacon resigned in protest at plans to intervene in the march.
There are also reports the teargas caused a baby to die of asphyxiation.
Morales said on Monday his decision to suspend the road was made in the 'midst of this national debate' and that he would 'let the people decide'.
The proposed 300-kilometer highway would cut across the heart of the Isiboro Sécure national park. It is home to Chiman, Yurucare and Moxos Indians.
On Sunday protesters were near to completing their 500km march from the northern town of Trinidad to Bolivia's capital, when police used teargas to disperse them.
Prior to this crackdown, a police blockade detained indigenous protesters for several days, allegedly to prevent clashes between angry colonists and the marchers.
Brazilian company OAS has been contracted to construct the road with funding from the Brazilian Development Bank.
Together with more than 60 international organizations, Survival has signed a letter to President Morales, supporting the Indians' right to decide on any project that affects them and their lands.